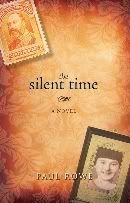 The Silent Time
A novel by Paul Rowe

Paul Rowe's new novel, "The Silent Time," will be launched tonight, Monday October 29, at the Placentia Public Library at 7:00 pm.

Attendance is free!

Paul, a Point Verde native, will read from his book; copies will also be on sale and available to be signed. Coffee, tea, and snacks will be generously provided by the Library.